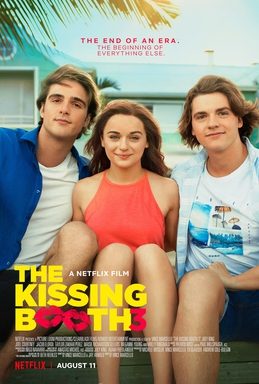 Well, the series of high school drama and love has finally come to an end.
It's the summer before Elle Evans is supposed to go off to college and make the hard decision of which Flynn brother she'll choose to go with… sort of.
Elle has a decision to make between attending Berkley and living with her best friend Lee in California or going to Harvard and getting a place with her 'dreamy' boyfriend Noah in Massachusetts.
I think you know where that's going – a typical girl choosing her man over her friend.
Although it's known that Elle is a 'bright' girl, we never really know what she wants to do in life or where she wants to attend college until the end of the movie.
Lee ends up finding out what college she picks and feels absolutely betrayed.
Elle comes up with the bright idea to make it up to him by their "beach bucket list" they made as kids for the most 'ultimately fun' last summer.
The movie then takes off to complete this 23 list plan just to make Lee happy, even though Elle has her hands full working a job on the beach, caring for her younger brother, and finding time for Noah.
The director got creative with bucket list item #4; Race Day. The teens dress up as Mario Kart characters and literally play the game racing around on the track in their go-karts throwing anything from slime bombs to bananas at the other players.
Just as stressful as that sounds, the Latino musician Marco comes in ready to win Elle back, making Noah feel threatened and complicating things for their relationship.
Just like the previous movies, it always ends in heartbreak with a twist. That's all that needs to be said so the movie isn't completely spoiled.
I think this final movie is a beautiful coming-of-age story with raw feelings and challenges that many high school students face as they're getting ready to move away to college.
We're faced with having to make hard decisions while still trying to figure out who we are and what path to choose.
In the end, Elle decides it's finally time to put herself first.
She finally figures out what she's passionate about and decides to go to choose a completely different path than what was planned.
If you're a sucker for a rom-com and a wee bit corny movie, you'd LOVE this.
You're just going to have to watch it to find out where she goes and for what. Also, to see how the romance between the teens plays out. It'll melt your heart and wish you were in love like that.