Previous state qualifiers return after losing the team's 'best' player
After 27 years of coaching tennis at Fremont High School and multiple state qualifiers later, Head Coach Justin Bigsby has a different team than he has the last couple of years.
Returning just three starters on a team that sent seven to state in 2020, six of them being seniors, Bigsby and the Tigers tennis team will have to reload and rebuild for 2021.
"Our first and foremost goal is to get better today," Bigsby said. "Not only did we lose our top player, but we lost 7 of our top 10, so we have a lot of learning to do and lack of experience to make up for."
The Tigers finished top 10 at the state meet and finished fifth overall out of nine teams, but 2021 will be a different season for the Tigers.
Juniors Cameron Indra and Jacob Broeker have been described as "our two biggest leaders right now" according to Bigsby. Indra was one of the seven state qualifiers for the Tigers in 2020.
"There is definitely some pressure on the whole team as five out of six varsity members graduated last year," Indra said.
In 2020, Indra finished with a record of 8-20 in number one doubles, where he and then senior Logan Schlautman qualified for state.
Now, in 2021, with another year of experience under his belt, Indra is ready to rock the competition this year and be one of the main players the Tigers use this season.
"I am excited to step up for my teammates and lead them on and off the court," Indra said. "I wouldn't say there is a lot of pressure as I've worked for this season for two years and I believe I'm ready."
As for the lineup, the Tigers will be very dependent on Indra and Broeker this season, but each day in practice, the Tigers keep working each day to complete their six-man roster.
"Honestly, our line-up is very much up in the air right now," Bigsby said. "We need to keep improving on a daily basis and see who steps their game up and earns a top-6 spot."
Indra credits his success on the court to the work he puts in in the offseason. He credits his private trainer and his head coach.
"Ever since I started working with my private coach, Devin Nielsen, I enjoyed practicing tennis and traveling to tournaments with him during the summer and the off-season over competing in other sports," Indra said. "When I first started playing tennis in the 8th grade, Coach [Bigsby] and Alex Bigsby would give me lessons and help me out quite often which is why I believe I was able to be number five on the tennis ladder my freshmen year after just starting to play tennis at that level. I believe Coach Bigsby wants me to succeed and I'm excited to compete with him in my corner."
The first three meets for the Tigers this season start off on Friday, Aug. 27 at the Lincoln High Northeast meet, Thursday, Sept. 2 against Lincoln High and the FHS, Lincoln Southeast and Papillion La-Vista Triangular on Friday, Sept. 3.
About the Contributor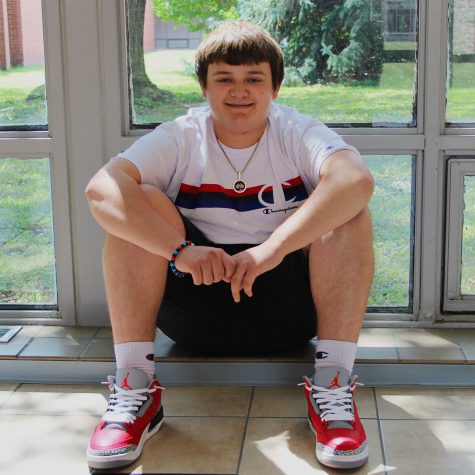 Jared Knollenberg, Sports Editor
Jared Knollenberg is in his third year on the staff and now serves as the Sports Editor. Jared spends his free time hanging out with friends and family,...