Tardy pass line suspends students of learning time
When the first block bell rings at 7:50, a long line of tardy students is a common occurrence outside of the office. At times this line ranges from just a few students to multiple lines of students, which has reached as far into another hallway at times. 
Tardy blocks have been a constant undergoing problem for teachers and administrators. Due to Nebraska state laws, the FHS administration cannot develop its own system of rules and regulations to help decrease the number of tardy students. 
According to PowerSchool data compiled by district associates, the daily average of tardies has been on a constant rise from 20 to 40 students in just a month's time. 
No matter the amount of trials and tribulations the administrators have taken to prevent this issue from recurring, nothing has seemed to work. 
"Tardies have been an issue for all districts, not just here," FHS principal Myron Sikora said. "We've done different things over the years since I have been at Fremont High School, I don't know if those things have made much of an impact. "
Many students believe the tardy policy is unfair, especially when it comes to students being marked tardy for their first block class. 
"Kids are responsible for getting themselves up in the morning, therefore, the ones that do not want to come to school early in the morning, simply don't," said Sikora. "I think our biggest number of tardy students is after the bell rings."
According to the FHS Student Handbook, the tardy policy consists of the following: "Punctuality is a life skill valued by employers and society at large. In order to minimize disruptions to learning and to help students learn life skills, Fremont High School expects students to be on time for school and on time for individual classes. As a consequence for arriving tardy to a class, a student may be required to attend a 30-minute tardy block either before school from 7:15– 7:45 A.M. or after school from 3:20 – 3:50 P.M." 
When a student arrives late to class without a tardy pass, the teacher is supposed to send the student down to the office to receive one. Depending on the number of tardies a student receives, they may have to serve time in a tardy block. 
Once the student walks back to the office, there may be a line of other tardy students. Now the student will have to wait in a line, which can reach extreme lengths. 
"I do believe that we will have another entrance once construction is finished. We will have more computer systems at each entrance, so it won't be as much of a time waste for students," Sikora said. 
A survey conducted by Tiger's Eye News staff was sent out to students, teachers and administrators to help better understand frequent tardiness. 
84.6% of teachers send their students to go get a tardy pass, even though they agreed that sending a student to receive a tardy pass can waste their classroom learning time. 
"Some students will say that it shouldn't matter if they are a few minutes late to class, but it doesn't work like that in the rest of the world," English teacher Justin Bigsby said. "Show up late enough times to work and what happens? You're penalized. This issue goes beyond the 1st block; this is a life skill we are trying to instill."
The majority of students interviewed agreed that only first-block tardies should be disregarded for multiple reasons.
For example, students walk to school, traffic jams, parents are late and many more. 
"I think first-block tardies should be disregarded. There are plenty of reasons for why people can be late to their first block," junior Peyton Styskal said. "They can get stuck in traffic, they have problems with their car or their coffee line is too long and they can't leave." 
Although students are supposed to be responsible and on top of their daily activities, circumstances and personal events sometimes interfere with a student's life. 
"I know sometimes life happens, and we all have bad days when there are things out of our control, but chronic tardiness can also be the result of a lack of executive functioning skills and/or respect for others on the part of both students and parents," English teacher Ashley Bignell said. 
It's the teacher's responsibility to uphold the school's policy, but according to the Tiger's Eye News survey, some teachers seem to think the policy is too strict. Some say they can't even remember to take attendance already, or they forget to send a student down to get a pass.
"Further, speaking from my own experience, I don't know that we can always count on teachers to update their attendance in PowerSchool from a student being absent at the beginning of class to having merely been tardy," English teacher Aaron Pierce said. "I can routinely get caught up in what I'm teaching and forget to go change a student's attendance in PowerSchool, so I have to imagine other teachers experience something similar." 
The tardy system has a reputation for wasting class time, and it's not just students who agree. 
"I think that time would be better served to have a conversation with the student on why they're late. I think that a lot use the tardy pass system to get out of class more," media specialist Dana Fontaine said. "It's totally counterproductive. I think tardy passes should only be used for students who are 20-25 minutes or tardier to the first block." 
In the survey by Tigers Eye News, 100% of teachers are aware of how extreme the length of the tardy line can become. However, only 30.8 % of teachers think disregarding 1st block tardies may help solve this problem, while 69.2% disagree entirely. 
Some would assume the perspective of students and teachers would vastly differ. However, that is not entirely true. About 20% of students interviewed agreed with the teachers' perspective. 
"I think that students should be excused for a certain period of time. If first block tardies are excused, some students would take advantage and abuse the policy," senior Hannah Hughes said. "However, if a student has reason to be late to classes, they should be excused after a conversation with the teacher." 
80% of students interviewed by Tiger's Eye staff disagree with the policy already in place. 
"I don't think students should be counted tardy," sophomore Emma Diers said. "Some have younger siblings who get dropped off first and parents who drive slowly and cause them to be late. But if they arrive very late, to the point where they are barely in class, they should go get a tardy pass."
As morning tardies continue to be a problem for students and staff, it is clear that there is no obvious solution or fix currently.   
About the Contributor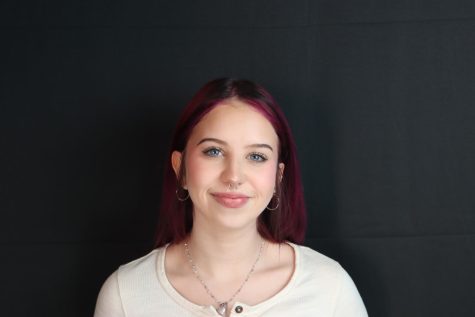 Annabelle Bignell, Community & Social Media Manager
Annabelle Bignell is a sophomore at Fremont High School. This is her first year on the Tiger's Eye staff. She is one of the officers for the Multicultural...