Prevent and prepare
School shootings have gained an extreme amount of mass media attention over the past ten years. Additionally, schools are starting to take more preventative action. 
To understand the topic of school shootings better, there needs to be a breakdown of definitions, meanings and factors.
"I don't think there is an exact definition of a school shooting," Fremont Public Schools Coordinator of District Security, Kevin Kavan said. "If a student is injured on school grounds, it is a school shooting." 
The FBI defines a school shooting as, "an armed attack on an educational institution, such as a high school, using a firearm." A mass shooting is defined as "a crime in which an attacker kills/injuries more than four innocent people."
The United States has had an increase in gun violence over the last 3 years. According to gunarchive.org, each year has an average of around 600 mass shootings and 300 school shootings; that's around 2-4 shootings a day.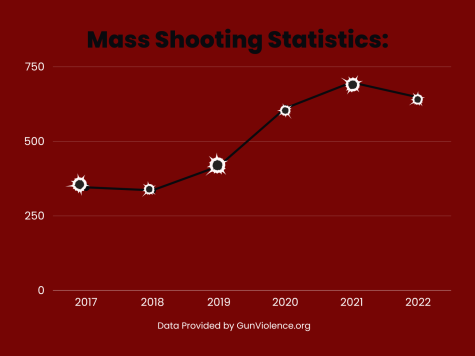 Most recently, the year 2022 had the highest number of school shootings, reaching 300 by only Dec. 20. 
Whether the origin behind the shooting was gang violence, targeted killings, after-school shootings or even suicide on campus, the increasing statistics have been very worrying for parents, students and teachers.  
While this issue is still constantly rising, educators, leaders and politicians are debating on what to do to help stop the increasing number and rate of growth.
"One thing that shocks me is that the state of Nebraska does not mandate lockdown drills. This kind of blows my mind, that our state legislature is afraid of mandating drills," Kavan said. "We do about six fire drills a year, which are mandated by the state, but we don't have any state-mandated lockdown drills. Thankfully, the Fremont Public School System has its own mandatory drills to keep our students safe."
When comparing fire drills to comparing shooting drills in real-life situations, Kavan explained the need for more mandatory shooting drills.
"The last time there was an accidental school fire was in 1958, which was the last school shooting," Kavan said. "2 weeks ago? We need mandatory drills." 
One question many people ask is, "what was the motive?" or "what caused the shooter to fire?"
There could be multiple elements or building blocks that create the motive for a school shooting. Whether it is bullying, bad mental health, abuse or more trauma-causing factors, they may not be something educators can control. 
Although educators can not physically control or change this environment for a student, they can make school a more comfortable place in which the student feels welcomed and safe.
"The very best thing we can do is build relationships between teachers and staff with these students," Kavan said. "For students, the best thing to do is go tell someone you can trust. To keep this building safe, we need to communicate." 
A safe place in school allows students the ability to feel needed. This may prevent multiple casualties and injuries. All it takes is one conversation to create a safe environment for students. Creating this connection and mutual trust with a student can lead them to open up about their thoughts, feelings or threats they have seen or heard around the school. 
"We can only do this [preventing school shootings] if we work together — students, school and staff," Kavan said.
With this mutual respect, teachers may gain more insight into the student's personal life. If they feel as if there are some signs that the student may have tendencies to harm other students, they are legally required to report it due to nationwide mandatory reporting laws. 
As a student, if you feel threatened or have physically heard or seen threats about gun violence, you also need to report these threats as soon as possible to keep not only yourself but those around you safe. 
Due to rising numbers, students are expected to report any misconduct or violence. 
Whether this violence is spoken or acted upon, it needs to be reported to a teacher or administrator to prevent further harm to the student body. 
"If you see something, say something. I know it is an old motto, but we need to do a better job of telling everyone," Kavan said. "We need to get the word out to keep everyone safe. Please report things like this, even if it is mental health related, we need to get this information to a trusted adult." 
The National Association of School Resource Officers recommends each school has at least one SRO on campus at all times. There should be 2 SROs per 1,000 students. 
"If you look at Dodge County, Fremont is the biggest city. If you want to quantify that even further, you can count Fremont High School as a city," Kavan said.  "We have our School Resource Officer here for a reason. They are policing our community. We are the second largest community, a family. 
Trained SROs do not only protect, they can educate and build relationships with students to further protect the student body as a whole. 
"We have 5,000 students in the Fremont Public School system – why don't we have more than one SRO?" Kavan asked. "He doesn't get the chance to mingle and teach students about safety; therefore, we have to step up and take full responsibility as a school system."
Whether the solution includes adding in metal detectors, making sure there is bulletproof glass throughout the school, adding an extra lock on the door or bringing in more SROs, schools need to be kept safe.
"The cop in me says we need everything to protect the school, I want it all, but we need a balance," Kavan said. "Are we actually balancing if we make our school look like a fortress? It just won't look like a school anymore."