Nothing is free
Well, the season is over. That does not mean football will not go on. It's time for the free agency process. Many players will be rehomed, but just as many will stay put. Who will go where? Who won't be rehomed? Who won't make the cut? From the newly released Derek Carr to break-out star Tony Pollard. Franchised tagged or multi-million deal, where will the stars land?
"Derek Carr would be a good fit for Tampa Bay, especially after Brady retired," Kansas City Chiefs fan Hunter Schram said.
Former Las Vegas Raiders quarterback, Derek Carr, was recently released after a last attempt to trade the 31-year-old. After a good visit with the New Orleans Saints, Carr stated that he would not waive his no-trade clause. So where will Carr land? Many believe the Tampa Bay Buccaneers are a great fit. The Buccaneers, who finished with an 8-9 record, somehow managed to still sneak into the playoffs. This is because of the NFC south's poor play. With the other three teams finishing with a 7-10 record. The Buccaneers who were led by future hall-of-fame quarterback, Tom Brady, the last three seasons lost him due to retirement. Despite this, this team is still in win-now mode. Carr would be welcomed by pro bowl receivers Chris Godwin and Mike Evans. Evans as well as being a pro bowler has never had a sub 1,000-yard season. With cornerstone linemen such as center, Ryan Jensen, and tackle, Tristan Wirfs, Carr would have plenty of time to throw to Evans. 
"I believe he stays in Dallas, and they release Zeek," Seattle Seahawks fan, Sabian Stone said.
Dallas Cowboys running back, Tony Pollard, had a breakout season this year. On 193 attempts Pollard had 1,007 yards, 9 touchdowns, and averaged 5.2 yards a carry. This is all with sharing a backfield with Ezekiel Elliott. Elliott had 876 yards, and 12 touchdowns, even with more carries than Pollard. Unfortunately, in the 49ers vs Dallas Cowboys, wildcard Pollard suffered a high ankle sprain and fractured Fibula. The decision that most people consider for the Cowboys is the franchise tag. The franchise tag would pay Pollard the average salary of the top 5 highest-paid running backs in the NFL, but with none of the bonuses or incentives. This would lock Pollard in Dallas for at least one more year if he chose to play under it. 
"Lamar Jackson is going to go to the Colts and keep being worse than Kirk Cousins," Minnesota Vikings fan Brock Graff said.
Baltimore Ravens quarterback, Lamar Jackson, has been the crème de la crème of all team's free agency this year. The former MVP has been working with the Ravens for a long-term deal. Now due to the Ravens not providing enough guaranteed money for Jackson's liking. Jackson has admitted that he will not play on a franchise tag. A major reason people believe this contract has not been reached is due to Jackson's playing style. Jackson is considered a dual-threat QB. Meaning that he can both pass and be lethal on his legs. Only four 1,000-yard rushing quarterback seasons have ever happened. Jackson has two. Why would the Ravens give Jackson a fully guaranteed contract if he could get hurt and retire before 30? If Jackson was to leave Baltimore, a fit that seems reasonable is the Indianapolis Colts. The Colts, who finished with a 4-12-1 record, possess the fourth overall pick in the 2023 draft. The Ravens have stated they will listen to trade offers for Jackson, their asking price has been two first-round picks. A pick like the fourth could possess enough value to swindle Jackson from the Ravens. With the 2021-2022 season's leading rusher, Jonathan Taylor, and Emerging wider receiver, Micheal Pittman, this hypothetical offense would be a nightmare for opposing defenses.
About the Contributor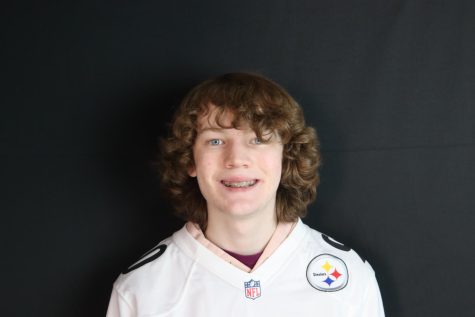 Logan Schram, Sports Editor
Logan is a senior at Fremont High School, and this is his first year on the newspaper staff. He is the sports editor and enjoys watching and doing anything...