The passing of the torch: Gallatin breaks father's record
Someone breaking your record in sports is often an emotional time for many athletes. Usually, people are upset that they are not the leader in a specific stat, games won or certain acts in a sport. But what if that record was broken by your own flesh and blood? Coriahnn Gallatin is a freshman basketball player at Fremont High. He has recently surpassed his dad, Cody Gallatin, for most three-pointers in a single season.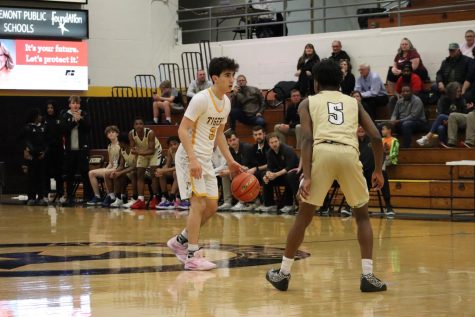 "It feels great," Cody Gallatin, FHS JAG teacher and assistant boys basketball coach, said. "To see him work as hard as he has and accomplish that in his first high school basketball season is amazing! If anyone had to break my old record, I am glad it was him." 
One thing that's certain is that emotions are not soured. As of Jan. 27, Coriahnn has made 63 three-pointers this season, breaking his dad's previous record of 61. He has shot 43% from the three, which makes him the leader in three-pointers in Neb.
"If Coriahnn can stay healthy and humble, I think he has a shot at some more records for sure," Cody said. "The thing I do know about Coriahnn is he wants to win, and that would mean more to him than any records he might break. He is the ultimate competitor and a great teammate."
Sports is more than the physical aspect. The drive to want to succeed, provide for your team and help others get better is what made all the athletic stars who they are. Without a drive like that, the record most likely would stand. Health is a major aspect as well. Injuries can be the plague of many up and comers young careers. Former stars such as Derrick Rose and Greg Oden's careers were completely dismantled due to injuries. The work athletes put into their bodies and mind is the only way to prevent injuries. With what's turning into a bright, young career for Coriahnn, it appears he has all of these skills.
"I have been training him since he was little and we have put thousands of hours and thousands of reps into the game of basketball. At the end of the day, I know it's still just a game and the time I have spent is not in vain. We have a great relationship from being in the gym all the time together, and I have been intentional about leading him in basketball and more importantly in life. I have tried to point him to Jesus with the hope that he will follow Him all the days of his life and that basketball is just a small part of that," Cody said.
All athletes must have proper training, especially with all the fine tune movements, gestures and actions that are used in basketball. Having the proper training, people and motives around is what truly shapes basketball players into stars. With a coach and father in one, good teammates and great training, Coriahnn and the rest of the team have several good years to come.
"I have been coaching for a long time and have coached when he wasn't on my teams. I am grateful for the opportunity to coach with one of the best in Coach Williams," Cody said. "I am learning a lot from him, and I am glad my son gets to be coached by Coach Williams while trying to win as a Fremont Tiger."