Creative Writing Club offers students a creative outlet
Fremont High School's Creative Writing Club, led by English teacher Blake Hughes and special education teacher Jennifer Ramsey, was founded to help students find a place where they can express themselves and find a sense of community within the student body.
"I decided to host the Creative Writing Club because I love writing and other forms of creative self-expression," Hughes said. "Students should have a place where they feel comfortable sharing their writing and artwork to a supportive community." 
A normal club meeting starts off with a quick game. Students then share their writing or artwork they have created. 
"A normal day of the creative writing club is usually hearing amazing stories and poems from a lot of the members of the club," freshman Zoe Kenny, a club member, said. "It's a lot of fun when Davis Jones goes up and tells his stories because he writes the silliest stories in the club! We always have fun playing games and doing open mic."
Some days there are quick lessons over different writing styles or techniques. There are also writing contests where students have the opportunity to submit their work.
"We do writing workshops in which we give helpful critiques in order to improve our work. It is not competitive or professional by any means; we just have fun! However, you can enter contests voluntarily," senior Hannah Kellison, a club member, said. 
Creative Writing Club can benefit students with way more than building writing skills.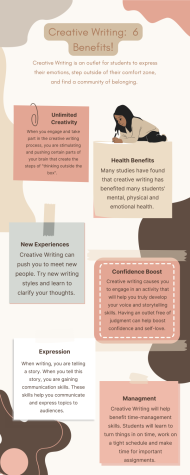 "It'll give me a chance to hear what I could fix or make better and another chance to hear more ideas," senior James Ebel, a club member, said. "It's extremely helpful for the career I plan on pursuing, being a director and writer for movies. Being able to hear others' perspectives on different things can help me to become a better writer." 
According to the sponsors, Creative Writing Club helps students step outside their comfort zone, build confidence, creativity and help with the ability of managing their time. 
"This club benefits students by helping build writing skills, confidence, empathy, time management, and other important skills," Hughes said. 
Being creative and having the ability to express yourself is essential for growth. Creative Writing Club continues to empower and boost these students' skills. It allows them to work at their own pace, which is comfortable and flexible.
"My favorite part of the club is how connected we are with each other," Kellison said. "Each piece of work comes with meaning and gives a deeper insight of what goes on in someone's mind, and the fact we all feel safe enough to share that means something to me."
Creative Writing Club teaches, shows and creates a system of new learning techniques and skills to help students learn to express themselves without judgment.  
These skills can even help students prepare for college and future experiences after high school. 
"Writing is essential, but learning to be yourself and love the parts of you that make you who you are is irreplaceable," Ramsey said. "Creative writing is a chance for the future to get feedback and find their voices."
About the Contributor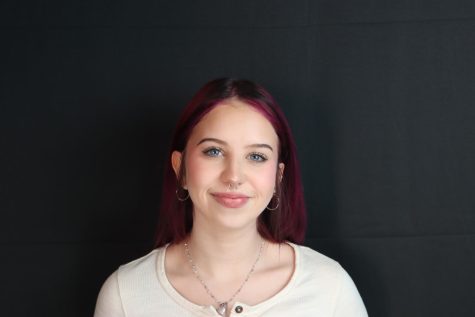 Annabelle Bignell, Community & Social Media Manager
Annabelle Bignell is a sophomore at Fremont High School. This is her first year on the Tiger's Eye staff. She is one of the officers for the Multicultural...