High school isn't the end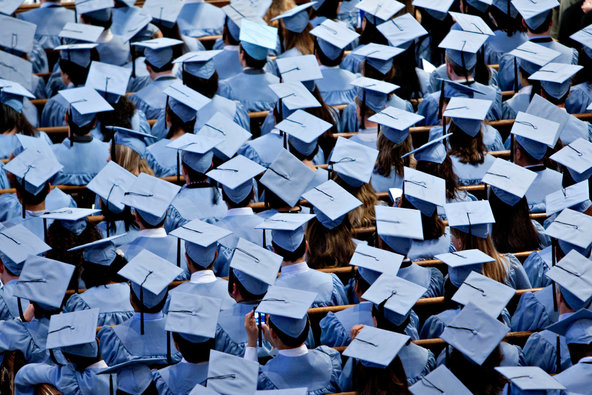 I write this as I sit in a packed vehicle, listening to Google's robotic, fake feminine voice tell us which exit to take…. while my step-dad disagrees and takes a different one. 
Now, normally this kind of trip would fill me with an anxious annoyance, having to sit packed like sardines, listening to bickering and arguments. If you've ever been on a road trip with your family, you should know what I mean. 
But this trip is different. 
We're going to the college I've chosen. 
We're stuck on a three day trip to Virginia – and that doesn't count the days coming back.
We're slowly growing insane. 
Well, they are. I'm incredibly excited. 
As I sit here, wrapped in a fluffy blanket and staring out the window at the rapidly passing trees and highway towns, I can't do much other than think about what I've done to get to this point of my life: what I've learned, how I've changed and why I am at this point. 
I remember being in elementary school, my identity consisting of only reading and drawing. I even remember accidentally stealing a book from the classroom and being too embarrassed and ashamed to return it once I found it… 
But ignoring the nostalgia I've gotten wrapped up in! 
College is such a big decision. It's so hard to pick a college that's great for your major, has a reasonable price tag, and won't suck the life out of you and your desire to actually finish your degree. 
And that doesn't even factor in the fact that you might want to change your major! 
It's hard to think about life after high school. Sometimes, it just doesn't click that you're going to graduate at some point.. but when it did, for me at least, I suddenly felt sick to the stomach at the thought of it. I felt like I didn't live the 'high school experience' in its totality. 
I felt like I just.. didn't lead a fulfilling experience. I didn't participate in all the activities, I didn't take all the classes I wanted and I definitely didn't do as much stupid stuff as I orginally thought I'd do.
I feel like the high school experience has too much pressure placed on it. Pressure to succeed, pressure to perform, and just pressure to live a full life in general. 
But as I sit here, I've realized that it's way more exciting to think about what I'm going to do in the future than what I'm regretting I missed out on. 
 Now as I reach towards the end of my high school career, I realize that it's more important to look ahead. My peak isn't going to be high school. In fact, most people's peaks aren't high school. After high school, we all have so much life to live! The majority of us are only 18 when we graduate!
It's important to keep that in mind as we trudge through our day-to-day, regretting this or that. High school is just another chapter in our big ol' book of life. It isn't the conclusion or end.