Fast fashion kills
What's your favorite clothing store? If you answered almost any store that mass manufactures clothing, you're a terrible person who supports child labor.  
Obviously I'm kidding. However, some stores are no joke in how horrible they are. If a store produces 'fast fashion', they're bad.
'Fast fashion', aka "inexpensive clothing produced rapidly by mass-market retailers in response to the latest trends" as defined by the Oxford Dictionary, has a lot of negatives attached to their low price tags and cute clothes (yes, I'll admit, fast fashion can be really cute sometimes). 
When a really nice dress is $10 or less, there's an issue. Something isn't adding up. It just takes a google search to figure out why. 
First, that pretty dress you're looking at? Yeah, sorry but it was made with dangerous chemicals. Much of fast fashion clothing has 'azo' dyes. Azo dyes are a group of cheap dyes that produce strong colors in clothing. Azo dyes also can have a carcinogenic effect, which means they can cause irritation in skin and eyes. 
There's more than just azo dyes that are irritating consumers, however. Traces of lead, formaldehyde and 8,000 different chemicals have been found in clothes from companies like Zara, Shein, Romwe and others. 
These chemicals in the clothes we wear also tend to be washed out before they are being shipped out to consumers, which is why there's only traces of them. Where does the rest of the chemical go once it's been used and washed out? Well, it goes into the natural waterways and rivers, of course! Factories dump toxic dyes and chemicals into water and poison them to the point that local wildlife have died off in entire areas.
Fast fashion doesn't just harm the consumer, it also majorly ruins the lives of the men, women, and children who work there. 
While the chemicals that are used to produce our clothes may cause irritation for us, the workers are the ones who receive the most harm in the end – and they often aren't aware of it. They are exposed to more of the carcinogens and dyes than the consumers are. The increased exposure has led to respiratory problems, skin and gastrointestinal problems, as well as cancer in many employees. 
And they're exposed to all this for just around $300 for weekly pay. That sounds okay to a teen with a part time job, right? Well.. maybe if they were only working 20 hours a week with less danger. These workers spent 60 to 70 hours a week making clothes with dangerous chemicals. They make around 2 to 6 CENTS per PIECE of clothing. 
Educating yourself and others can be one of the best ways to have a positive impact. Ignorance is one of the main reasons fast fashion has become so popular. People don't know who and what their choices are affecting. Putting consequences onto fast fashion is going to open eyes.
Buying 'slow fashion', also known as eco-fashion, sustainable fashion, and/or ethical fashion, is a great way to make steps towards improvement. It's safer for the environment and people, as well as higher quality.
Now, this option has seemed to have gotten more trendy in recent years but thrift shopping and buying second-hand clothes is an option. You save money, can find some really great pieces of clothing and feel better about your choices. There's also online vintage and thrift shops you can peruse if you don't want to travel!
All of the options above are great but this one is probably the best: just don't buy as much. Period. Even if you shop sustainably, you're still being less sustainable than if you didn't buy any clothes at all. Buying clothes only when you need to is one of the best ways to save money, have an impact and avoid buying fast fashion.
Unfortunately, the consumer dollar alone can't solve this problem. 
Making bigger moves is really the only way to stop multimillion dollar companies from taking advantage of consumers and employees. Pushing towards governmental reforms is the best way to go. Companies won't fix themselves. They need an outside source to push them to do it. 
It's important to encourage people to stand up for themselves and others. Playing 'social activist' may sound awkward, but that's one of the main and best ways to truly help. 
Writing to politicians, using social media to spread awareness, and supporting slow/eco/sustainable fashion is the ultimate way to make an impact. There's also organizations to support. 
The Centre for Sustainable Fashion is a research center in London that is constantly working to create new sustainable fashion as well as working with companies like Nike to better their business practices. 
TRIAD is another organization. TRIAD states that they have three goals: to increase clothes reuse, to fund development projects to improve the textile industry, and to educate. Based in the UK, they sell and repurpose donated clothing and then use that money to improve the conditions of textile factories and help the people working there live better lives. 
The organization Solidaridad focuses on the farming sector of the clothes industry. Solidaridad mainly works on making sure that cotton farmers are practicing safe harvesting and aren't being taken advantage of. They also work with governments and communities by providing proofs on how they can improve themselves.
Now, Greenpeace is a much wider organization focusing on any environmental issue. Greenpeace uses peaceful protesting and often advocates for the poor and marginalized – who are most often taken advantage of by companies. Their goal is to pressure companies to use safer chemicals and production methods.
It's hard to avoid fast fashion. It really is. But there's a lot of issues with fast fashion and it's about time to stop supporting the exploitation these companies do. By being selective of the companies you support, speaking out for those being taken advantage of, and helping nonprofit organizations, you can make a difference to the lives of those being harmed. It's time to think twice about buying that nice looking jacket off of SHEIN. 
About the Contributor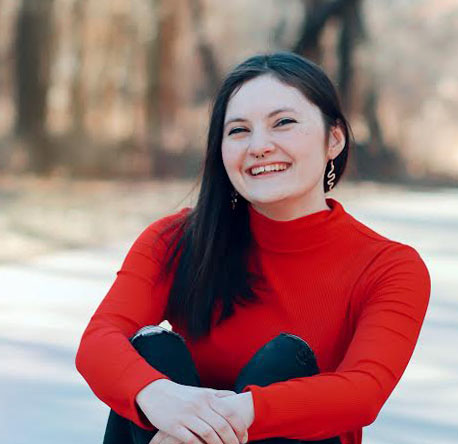 Rowan VanOsdel, Co-Editor, Graphic Design Editor
Senior Rowan Van Osdel is the Graphic Design Editor on the Rustler/Tiger's Eye. She has been on the staff since her sophomore year and looks forward...