New Diving Team at FHS Makes A Splash
One sport is making waves as a new addition to Fremont High School's sports program this year.
Diving has been added to the list of sports that FHS offers in the 2021-2022 school year. The last time diving was at FHS was during the 1990s.
"I wanted to start a diving team for a few reasons. First, I thought it would add another great opportunity for students to get involved in school activities. Second, diving is an important part of swimming meets and can help the FHS Swimming and Diving team be more competitive with other Class A schools. Third, I have a strong passion for diving and wanted to share that with students!" Alyson Ramsey, the new diving coach, said.
Ramsey's passion for diving stemmed from her own experience with the sport.
"I was a diver in high school and college and really wanted to share my knowledge and passion with students," Ramsey said. "I think diving is a lot of fun and, as a coach, I can help students learn the sport in a fun and safe way."
Diving practice involves working not just in the water, but on land too. Practices are held at the Dillon Family Aquatics Center.
"Diving practices include a combination of conditioning workouts, flexibility training, dryland training and time in the water. We start each practice stretching and doing some exercises to get warmed up. Then, we move on to dryland drills," Ramsey said. "Dryland drills help divers learn the proper technique and form good habits that will carry over to their dives in the water. After dryland, we get in the water and practice dives."
Divers perform multiple dives at their meets. They can also earn points that are added to the swim team's final score.
"Diving is essentially an event in a swimming meet, so our meets take place during swimming meets," Ramsey said. "Divers are put in random order and each diver competes their dives one at a time. At dual meets, divers compete six dives and at invitationals, they compete 11 dives."
There are currently five divers that are a part of the team: Hailey Newill, Kallie Johnson, Emma Foster, Luke Follett and Joel Molzahn.
"So far all of the divers have learned a lot in a very short amount of time and I am so proud of them," Ramsey said.
The diving team is currently underway with their season and are excited to be a part of FHS's sports program.
About the Contributor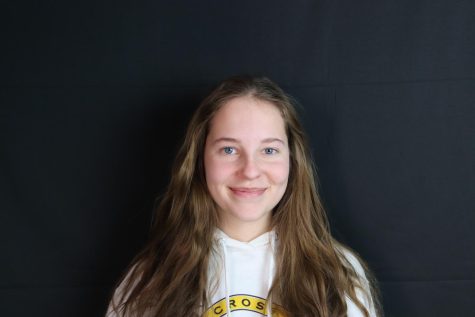 Heather Smith, Editor-in-Chief
Heather is a senior at Fremont High School. This is her second year on the staff of Tiger's Eye News, and she is so excited to be editor-in-chief! Heather...