Deja Brew-ing up some interesting flavors
With the reopening of the Deja Brew Coffee shop after last year's careful COVID protocols, the shop has become a busy place in the mornings for many students to pick up something to sip on.
One of the items they sell is smoothies. 
As most coffee shops seem to have smoothies, Deja Brew follows this trend with their strawberry banana and just strawberry smoothies. Now, it's understandable that there aren't many flavors available some days, since this is a smaller school-based shop. They do offer specials once in a while, as with the mixed berry smoothie that pops up once in a blue moon. 
The strawberry banana smoothie is a personal favorite.
 It definitely looks the best, with the whipped cream topping and soft pink color. It's a very smooth drink, as is expected from smoothies.
 The flavor isn't overpowering, and it's a more gentle flavor. It's definitely not for people who want a strong punch of taste; one similar to the taste that Juice Stop – the only true and best smoothie place in Fremont – offers. I personally really enjoy the softer flavor, especially for the morning when I'm barely alive and need something to sip on to stay awake but don't want an overwhelming flavor that punches me in the tastebuds.
However, their iced coffee packs that punch. They currently have three variants. French vanilla, caramel and hazelnut – with different varieties occasionally making their way to consumers.
Now, the flavors are similar in all of these varieties. Similarly strong, too. The iced coffees tend to look and taste alike, with a lighter tan color and a distinct flavor of something unrecognizable.
Genuinely, if you handed me one and told me to guess what it was, I don't think I could tell the flavors apart. They taste like coffee with some sort of aftertaste-leaving flavoring I can't name. Like that time I attempted to make my own Starbucks knockoff coffee (very, very bad idea – my oven was covered in caramel coffee syrup and it didn't even taste that good)… 
I personally enjoy the taste – as weird as it is – but it's not a coffee for everyone. For me, it's a 'take it or leave it, I don't really mind either way' kind of drink, quite honestly. I think it's worth a try.
There's one drink I truly care about though (and not in a truly good way). The pumpkin spice cappuccino. I was surprised to hear they had this flavor and just had to try it, being the stereotypical white girl I am. It was a seasonal drink as well, so I wouldn't normally expect a small school-based shop to carry it – making buying the drink even more enticing.
The cappuccino has to be my second favorite on appearance. The cold drinks have a see-through cup, which helps the smoothies, but the hot drinks get a custom Deja Brew paper cup. It's very cute and shows that the shop is established enough to have a 'brand cup'.
Now, I'm not usually a fan of hot drinks. The heat is too much and I have a tendency to be a little eager to chug down a caffeine fix. I normally make an exception with cappuccinos (usually they're my favorite Christmas-time drink), but this one is not included. It's the Rudolph to my coffee Santa sleigh, except it doesn't even have the light-up red nose… 
The drink itself has to be my least favorite on this list. It doesn't really… have a taste. Not even a distinct 'coffee' flavor like Scooter's expresso-packed drinks. It genuinely doesn't taste like much, pumpkin spice or otherwise.
When it cools down, the flavoring is more noticeable by the tiniest of smidgens, but I personally don't think having to drink a hot coffee lukewarm just for flavor is a positive. 
With all the factors together, I think Deja Brew isn't too bad. For a relatively cheap price and extremely easy accessibility, the student-run coffee shop has definitely earned its place in the school as our community shop (I bought three drinks for around 9 to 10 dollars! You're lucky to get two drinks for $10 at Starbucks, depending on what you buy). It's really just a matter of figuring out what drink is your absolute favorite and sticking with that.  
Personally, I don't think I'll be trying any more iced coffees or cappuccinos again. However, I could use another smoothie…
About the Contributor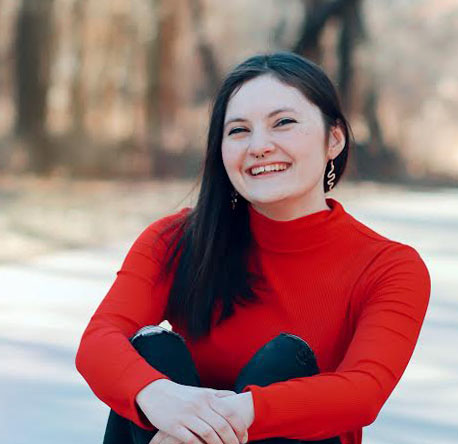 Rowan VanOsdel, Co-Editor, Graphic Design Editor
Senior Rowan Van Osdel is the Graphic Design Editor on the Rustler/Tiger's Eye. She has been on the staff since her sophomore year and looks forward...