Fremont High journalism prepares for state
The Fremont High Journalism program is focusing on something different this 2021-2022 school year.  
With returning state qualifying members, along with new staff, the student-run program is working towards having more than half of their staff perform on Tuesday, Apr. 26, 2022 at Northeast Community College in Norfolk, (for state) in hopes of bringing home another Cornhusker Award. 
On Jan. 29, 2022, the Nebraska JEA (Journalism Education Association) released this year's award winners which can be found on the Tigers Eye News website at https://tigerseyenews.org.
New adviser David Stevens is working toward growing his staff along with developing an emphasis on the newspaper staff's new mission statement. 
The staff of Fremont High's Tiger Eye Newspaper is proud to deliver quality content that represents the student body, to be the voice of FHS and to provide the truth to our community. 
"It's going to take time," Stevens said. "I need to teach more students intro to Journalism and recruit them onto either the yearbook or newspaper staff, but Rome wasn't built in a day. It's just going to take time for the student-run program to expand."
Since the program is a student-run program, Stevens explains his teaching to be a more "hands-off" style. 
"I just want them [students] to do their best, and I try to push them to achieve that."
He prepares his students with positive feedback and tips to stay on top of their writing and designing. He's confident in having another successful year. 
"Obviously, I want to do well," Stevens said. "So my goal is to have most of the students qualify for state. It's very difficult but this is a competitive class, and I just want the students to do the best they can and hopefully reap the benefits of that."
Junior Heather Smith is a first year staff member who 'strives to put out nothing but her best work.' 
"I enjoy writing and reading which is why journalism was something that interested me," Smith said. "I think having student media is necessary because of its importance to the school and things that are going on. It's important for students to have a voice and journalism is a way that voice can be heard."
Smith is one of many students on the journalism staff that is confident in being a state qualifier this year. 
"I've put in a lot of hours on my writing and making revisions along with my designing skills," Smith said. "I can't wait to hopefully perform at state and show the variety of skills I've learned from just this year!"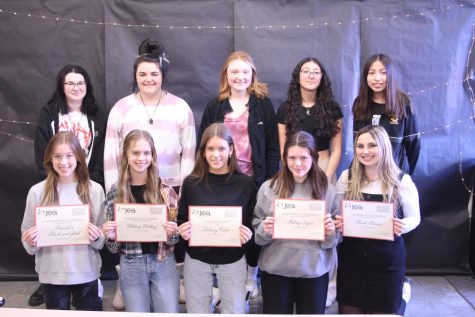 Top Row (starting from the left): Natalie Carlson, Twrinitey Thomson, Emmalei Huenniger, Katya Alarcon, Arianna Lango
Bottom Row (starting from the left): Lily Vaughn, Whitney Walling, Delaney Karr, Aubrey Pieper, Meah Homan