From Fremont to London
The biggest turning point in my life has never been closer and I am ready to take it by storm. 
After four years of trying various things FHS has to offer, including cross country, track, choir, and journalism, I am ready for something farther out of my comfort zone. 
I plan to attend Florida State University, in Tallahassee, Florida, to major in meteorology and minor in astronomy. Tallahassee is over 1,200 miles from Fremont but I don't plan to stop there. I was also accepted into FSU's international program so that I can study in London, England for my freshman year. 
The way I see it: if I can get out far out of my comfort zone as quickly as possible, I will be able to handle anything the world throws at me throughout the rest of college. Florida would feel like an in-state school relative to London. 
I have always had the desire to get out beyond the world of Fremont but my desire to leave the country was sparked very recently. 
It all started when I got an email from FSU's international program, about their FYA (first year abroad) experience. I always love looking at travel content so I read through it. I wasn't expecting to become seriously interested since I thought that studying abroad would be completely unaffordable for me. 
That changed the instant that I saw the opportunity to earn in-state tuition at Florida State if I completed the first year of studying abroad through the FYA program. The cost of studying abroad is just a little more expensive than the cost of out-of-state tuition, so I decided to go for it. 
I had four locations to choose from: London, England; Florence, Italy; Panama City, Republic of Panama; and Valencia, Spain. The locations were soon narrowed down to London and Panama City as the best options in accordance with my major.
I chose to apply to London because of the specific excursions and the type of historic culture that London has to offer. They also speak English which can be viewed as both a pro and con for me. It's a pro because that will obviously make things easier, but a con because I am looking to get the furthest out of my comfort zone. 
While I am thrilled about the new opportunity, that is not the only reason I plan to attend Florida State. I plan to attend FSU regardless of the study abroad program. 
FSU has a really great program for meteorology. I plan to go there to pursue a career in Broadcast Meteorology in the hopes of working on The Weather Channel one day.
One thing that I have learned in my time at FHS is that even though there will always be people who love and support me nearby, the opportunity to travel beyond is still there. Going far for college is a choice that should be made for oneself, and while my friends and family will be far away, they will still love me regardless.
About the Contributor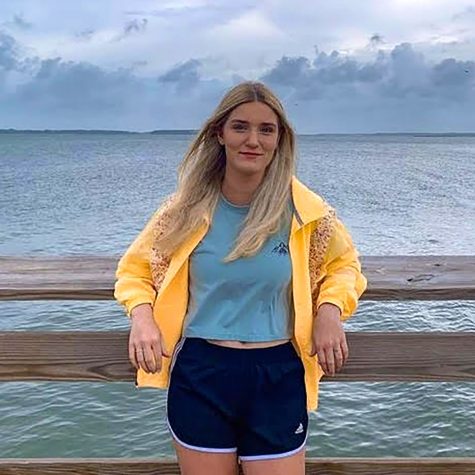 Ainsley Goebel, Business Manager
Ainsley Goebel is a senior on the FHS Rustler and yearbook staff. She is the business manager for both Rustler and Yearbook. She loves storm-chasing and...