Speech team is growing both in members and success
The Fremont High School speech team is seeing more success as they gain more participants. Currently, around 25 students participate in speech, which is the largest group that speech coach Aaron Pierce has seen since he started.
"This is the largest the speech team has been in a few years, since I got here six years ago," Pierce said. 
Among the people who currently participate, two have a chance to possibly make it to nationals.
"We've had a handful of pieces get to finals, but the group that is seeing the most success right now is Jenna Larson and Ayva Darmento," Pierce said. "They have a duo where they perform together. They have been champions at one tournament, and they need to [get into the] final at just one more tournament to qualify for the National Championship tournament in June."
Larson and Darmento's event is Duo Interpretation, where they work together to shorten and act out a story, movie, or tv show without touching or looking at each other while acting. They are doing a 10 minute monologue of the movie Legally Blonde. 
"We took a week to cut down the movie into 10 minutes," said Darmento. "It's not like a 10 minute chunk of the movie, it's a summary of the movie in 10 minutes."
Larson and Darmento have participated in Speech since their freshman years, but not together. Their current piece has earned them a championship at their first two competitions and seventh at their third. All they need is to get to finals in one more tournament to possibly qualify for Nationals. Larson and Darmento are hopeful that they can make it to finals.
"Getting first the first time ever presenting it in front of anybody and then receiving another first place finish just after was awesome," Darmento said. "We just want to keep going as far as we can possibly go because we only get to really perform this script once."
Not only have Larson and Darmento had recent success, other members of speech have been placing in the finals. Xavier Berhow has placed top ten at two different tournaments. Sophomore Presley Tworek received second place at her first tournament of the year, despite the large numbers of other speech participants from other schools. For example, Millard North, another high school speech team, has around 144 participants.
  "There's a lot of people that go to tournaments," said Tworek. "So sometimes it is really hard to place, but as long as you put in the effort and as long as you think you did good, you succeeded."
Tworek did their last speech as an informative of cults and has been practicing their current speech, a dramatic interpretation on the book Sweethearts by Sara Zarr.
Speech tournaments have been booked for almost every Friday. They have high hopes and Tworek looks forward to it.
"I think it's gonna go great," Tworek said. "All of our pieces are really coming together and I think we all have a shot at placing in our next competition."
About the Writer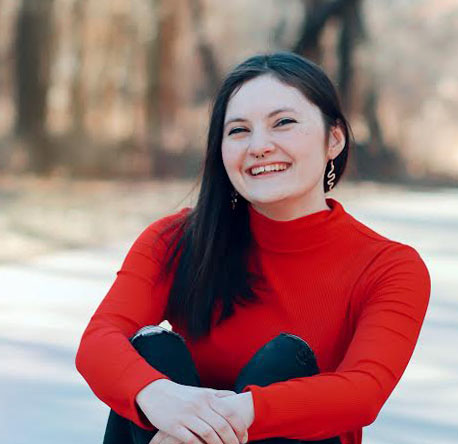 Rowan VanOsdel, Co-Editor, Graphic Design Editor
Senior Rowan Van Osdel is the Graphic Design Editor on the Rustler/Tiger's Eye. She has been on the staff since her sophomore year and looks forward...